WHERE

EXTRAORDINARY INNOVATES
ABOUT US
Beth Israel Deaconess Medical Center
A world-renowned Harvard teaching hospital, Beth Israel Deaconess Medical Center is composed of remarkable clinicians, researchers, teachers, and administrators who are not only leaders in their fields but also share a passion for patients and families. Our mission is to provide extraordinary care, where the patient comes first, supported by world-class education and research.
BIDMC is a founding member of Beth Israel Lahey Health (BILH), a pioneering integrated healthcare system. As we embrace a more strategic, patient-centered model of healthcare across the system, we recognize that focusing on BIDMC's expertise in complex care, technological ingenuity, and innovative research will be critical to our success. The focus of this campaign is to transform those clinical disciplines that will benefit the most high-risk patients.
BIDMC FAST FACTS
TEACHING
As a teaching and research affiliate of Harvard Medical School, BIDMC provided clinical education to more than 460 medical students last year.
RESEARCH
BIDMC ranks among the top ten in National Institutes of Health research funding among independent U.S. teaching hospitals. Our investigators conduct more than 850 active sponsored projects and 500 clinical trials each year.
WORLD-WIDE
BIDMC physicians and staff conduct research and training programs in more than 80 countries around the world.
RED SOX
BIDMC is the Official Hospital of the Boston Red Sox.
STAFF
There are more than 11,500 employees and 1,250 physicians on BIDMC's active medical staff, most of whom hold faculty appointments at Harvard Medical School.
COMMUNITY
Through 11 affiliated community health centers, BIDMC provides high-quality primary and specialty care to more than 100,000 vulnerable patients annually.
Carol F. Anderson
Carol F. Anderson became chair of the BIDMC Board of Trustees in 2017, having previously served three terms as a trustee, as well as vice chair of the Finance Committee. Carol was formerly a managing director of HarbourVest Partners, an international private equity firm based in Boston, where she was responsible for investments in medical device and health service companies.

Carol is involved in a variety of philanthropic and community service activities that benefit economically disadvantaged families in Boston and central Vermont.

Carol is a graduate of Simmons College, where she received a BA in economics. She also holds an MBA from Boston University.
Thomas J. DeSimone
Thomas J. DeSimone is a BIDMC campaign co-chair and vice chair of the Board of Trustees. Tom is a partner at W/S Development, one of the largest privately held retail development firms in the country. Previously, Tom served as a vice president in the Real Estate Production Group of The Boston Company Real Estate Counsel, a subsidiary of The Boston Company.

Tom is active in the New England business community, having served as president of NAIOP Massachusetts, and a member of the International Council of Shopping Centers and the Urban Land Institute. He is also a board member at Hebrew Senior Life and a board member and treasurer of Community Resources for Justice in Boston.

Tom graduated from Boston College with a BA in mathematics. He earned his MS in accounting from the Northeastern Graduate School of Professional Accounting.
Danielle Remis Hackel
Danielle Remis Hackel is a BIDMC campaign co-chair, a member of the Board of Trustees, and chair of the BIDMC Foundation, which is responsible for the strategic oversight of all medical center philanthropy. Danielle oversees marketing efforts at HarbourVest Partners, a leading global private equity investment firm. Prior to joining HarbourVest, she worked at State Street Global Advisors and Deutsche Bank.

Danielle is a trustee and strategic planning chair at Solomon Schechter Day School. She has served as co-chair of the Combined Jewish Philanthropies Financial Services Group and as a board member of Congregation Kehillath Israel and the Hillel Council of New England.

Danielle received her BA from Barnard College in political science and her MBA in finance from Columbia Business School.
Peter J. Healy
Peter J. Healy is president of BIDMC, a premier Harvard-affiliated teaching hospital and founding member of Beth Israel Lahey Health. Utilizing his nearly 30 years of leadership experience at both teaching and community hospitals, Pete has strategically strengthened the vital areas of patient care services, operations, management, and finance to enhance BIDMC's patient-centered mission and promote quality improvement.
Douglas Linde
Douglas Linde is a BIDMC campaign co-chair and a trustee emeritus, having served three terms as a member of the Board of Trustees. He is also a member of the Beth Israel Lahey Health Board of Trustees. Doug is president and a member of the Board of Directors of Boston Properties, one of the largest real estate investment trusts in the nation. Doug joined Boston Properties in 1997 and held a number of executive positions prior to his appointment as president in 2007, including executive vice president and chief financial officer and treasurer.

Doug is a member of the Real Estate Roundtable, a director of the Boston Municipal Research Bureau and Jobs for Massachusetts, and a trustee of Wesleyan University. He also serves on the Urban Studies and Planning Visiting Committee at the Massachusetts Institute of Technology.

Doug received a BA from Wesleyan University and an MBA from Harvard Business School.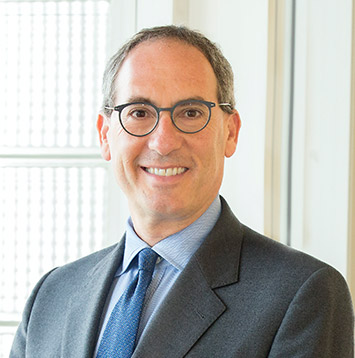 Kevin Tabb, MD
Kevin Tabb, MD, is president and chief executive officer of Beth Israel Lahey Health (BILH), a pioneering integrated healthcare system offering a full continuum of healthcare services, ranging from hospital to ambulatory to urgent to behavioral healthcare. Dr. Tabb and his BILH team designed the system to advance meaningful collaboration across organizations, care settings, specialties, and geographies to ensure patients receive the treatment they need in the communities where they live and work.